4 Bedroom Houseboats in Alleppey Kerala
4-bedroom houseboat in Alleppey is ideal for families and groups and are usually booked for business conferences and corporate meetings. We can host parties and functions in this house boat. There is nothing more satisfying than working while relaxing in the amazing backwaters of the "Venice of the east".
4 bedroom houseboats in Alleppey, Kumarakom Kerala are available in Deluxe, Premium and Luxury categories and usually accommodate 2 guests per room. The traditional Kerala delicacies are served during the cruise which is included in the package.
You will have to check in at 12 noon and check out at 9 in the morning. Boating time will be till 5.30 in the evening after which the boat will dock for the night by the lake. Make the most of your vacation in Alleppey as we provide you with affordable prices.
Alleppey backwaters are a dose of calm and peace, experience this first hand and we are certain that you will be back for more.One night cruise on the backwaters of the Alleppey is one of the most popular cruises offered.
Safety
4 bedroom houseboats are well furnished and maintained for the safety and security of guests who stay in the houseboats. Crew members ensure that only guests are allowed inside the houseboat.
houseboat is equipped life jackets, and 24 hours back support of ground staff and mobile communication facility to the office.
Fuel storage and fire extinguisher is also available in all houseboats
For calm sleep or to relax and enjoy the moonlit night all rooms are equipped with mosquito net, repellent and repellent creams etc.
First Aid facility is available in houseboats.
Facilities
4 bedroom houseboat in Alleppey Kerala is furnished with Wardrobes, Wall Mounted Fan, High Quality Vinyl Flooring, Teakwood Wall Finishing, Mosquito Repellent, Air Conditioner, Living Area with Dining table & Chairs, Separate Sitting Chairs and TV & DVD.
4 bedroom Premium luxury houseboats facilitates Sliding Glass window in each rooms for best view from rooms, High Quality coir carpet Flooring, Full time air-conditioning in rooms, Hot water facility in each rooms and Upper deck to relax and for better view other than common amenities.
DELUXE
Deluxe houseboats in Alleppey are budget compatible houseboats include standard facilities like living area, A/C bedrooms, attached bathrooms and kitchen. Deluxe ac houseboats in alleppey with upperdeck available.
PREMIUM
Premium Houseboats in Alleppey are partially or fully glass covered with wooden ceiling.Premium Houseboats include living area, bedrooms, attached bathrooms and an independent kitchen.24 hrs AC facility is available.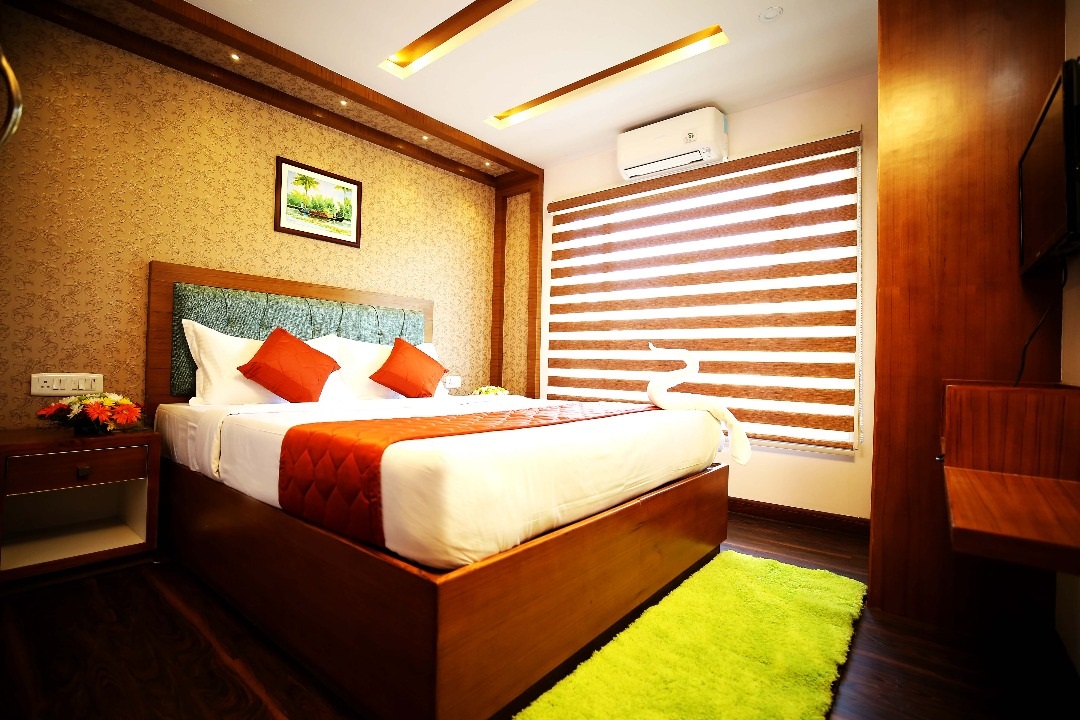 LUXURY
Luxury houseboats in Alleppey is similar to five-star Hotel.luxury Houseboats are fully glass covered so that you can enjoy the views fully. Includes amenities like living area, balcony, kitchen ,bedrooms and attached bathrooms.
Different ranges of Alleppey houseboats
4 Bedroom Deluxe Houseboats
4 bedroom deluxe houseboats are an affordable yet comfortable option for couples. In deluxe houseboats, the AC will be in the bedroom from 9 pm to 6 am. We have different types of deluxe houseboats starting at the rate of ₹24,000.
4 Bedroom Premium Houseboats
Premium houseboats have AC on at all times. There will be a slight variation in the food and interiors from deluxe houseboats. Prices start from ₹36,000.
4 Bedroom Luxury Houseboats
Luxury houseboats are for those wanting more than just comfort. Luxury houseboats have full-time AC and extravagant interiors. Prices start from ₹48,000